Blog
How to choose the right digital agency
Developing your online presence is necessary for growth and business innovation. The next step is choosing the right digital partner.
Considerations for choosing a digital agency...

What is their process?
A defined process is key to success. Your chosen digital agency should have a defined process which has proven successful for a broad range of clients. It takes sustained time and investment to develop robust systems and processes that deliver efficient and effective work, and that allows a team to function at their best. You might take into consideration how long the digital agency has been around as marketing has a low barrier to entry, and effective processes do not happen overnight. You want to see evidence of the following;
Defined objectives and diagnose any obstacles.
Complete projects within the given time and budget limits.
Focus on detail and quality.
Agreement on specific KPIs to measure progress with regular reviews.
Concise reporting which details: successes, setbacks, shifts in strategy, etc.

What services do you need vs. what services do they offer?

The best approach is to establish your own businesses marketing requirements before looking for an agency. If you have in-house marketing but require, for example, PPC or Analytics specialists you may then consider finding an agency that specialises in that niche. However, keep in mind that although you may not require a full range of services, you should not be reluctant to engage with a full-service agency. Multi-disciplinary teams can offer expertise and experience across the world of digital.
Partnering with an agency that has the scope and skill to work with you, and your marketing team throughout your businesses digital growth will result in a strong strategic relationship. Which will prove invaluable as your business evolves and develops new digital initiatives.
Portfolio
A well-documented portfolio of work for high-profile clients is the hallmark of an agency that can produce results. The look and feel of a portfolio is only one aspect of quality work, it is important to consider the results that have been achieved through this work. These results should be transparent and impactful.


Do they have evidence of industry recognition

A good indicator of quality work is winning industry-recognised awards. Remember to keep in mind that successful agencies don't rely solely on awards for new business. It is, however, a good way to get a sense of their core competencies and highlight some of their best work.


What testimonials do they have (Or not have)

You should lean on your professional networks for recommendations, by talking to those you trust and asking for their recommendations based on previous experience is a good starting point. Even a company with a variety of digital wins can experience negative reviews from time to time, so be sure you get a clear picture of their reputation. It is important to thoroughly research each digital agency, check for reviews from Google for unbiased opinions.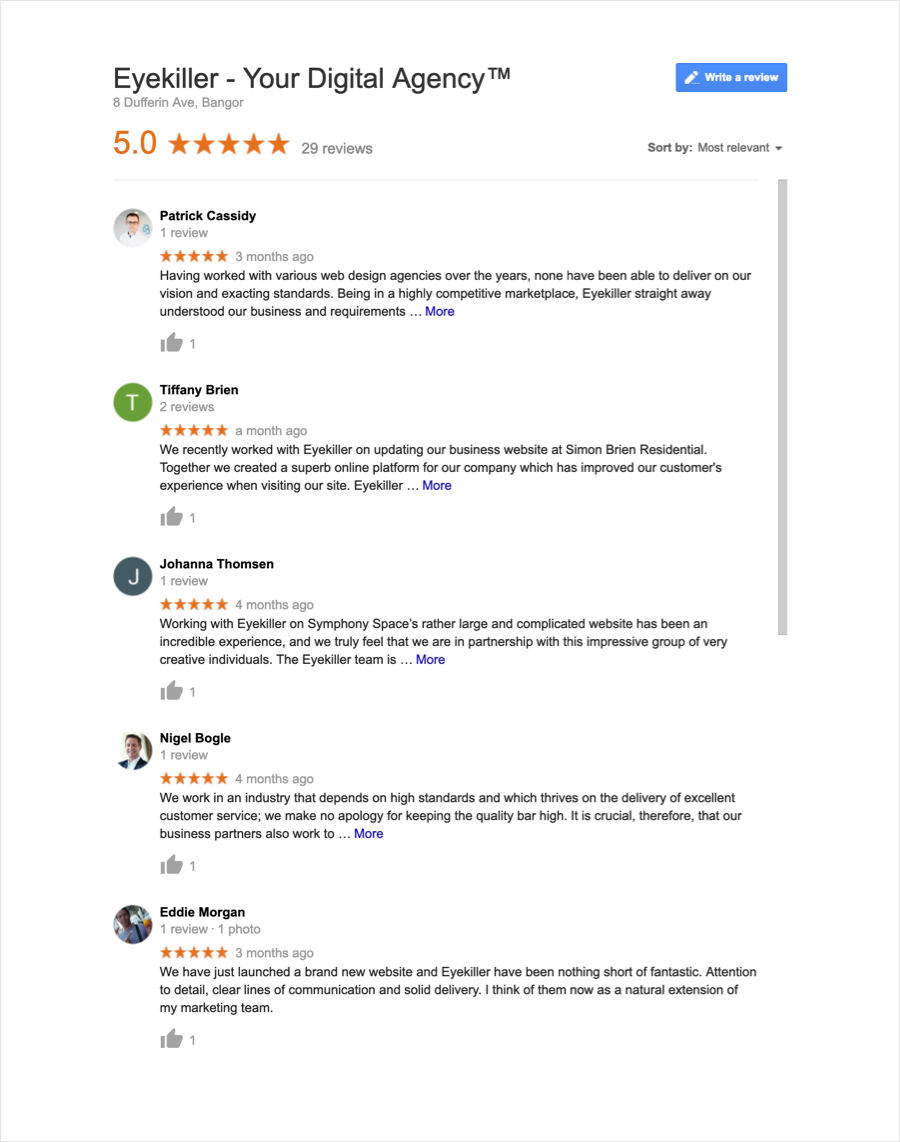 Get to know the team
You want to get to know the people that will be delivering your project. If possible you'll want to meet key members of the team in person so you can get to know them better and to ask any specific questions to the people who will be working on different parts of your campaign or project. The right digital agency will be able to collaborate with any in-house marketing teams that you already have, fill in any skill-gaps, and work to form a cohesive unit.
One benefit of working will a smaller, independent agency is the assurance that you will have experienced people overseeing your account. Meaning your project is not passed on to a junior staff member with little guidance.


Find the best fit for your business
These are only a few of the major factors that you should consider when hiring a digital agency. So whether you are seeking a short term relationship with an agency for a website build, or a long term relationship that will encompass an ongoing digital strategy - do your research. By asking the right questions, both parties will have a better understanding of your needs and goals to help your business succeed.
Are you looking to establish a new relationship with a digital agency? Hear what our customers have to say about us to see how we can make a real difference to your business.