Blog
Industry spotlight: Pet Care Brands
For pet care brands simply selling online is not enough in this highly competitive and growing industry.
We love our pets! Around 45% of us in the UK own a pet, therefore it's no surprise that the pet industry is booming and has lead to an influx of new and innovative pet brand companies.
With many of us seeing our pets as a beloved member of the family we aren't afraid to splurge the cash on them. We love spoiling our pets with luxuries such as beds, toys and grooming services. The average owner spends around 10% of their annual salary on their pet (around £3000).
Tails.com
In 2013 tails.com set to tackle the growing concern of ingredient quality in dog food. With negative health problems occurring from a poor diet, they set out to develop a way to offer dog food that was a unique recipe for every single dog.
Personalised Experience
Tails.com offers a completely bespoke recipe for every dog by asking a series of questions only you would know about your pooch. From favourite flavours to allergy exclusions, tails.com unique blend of ingredients gives us peace of mind that our dogs are eating the very best.
Lily's Kitchen
Lily's Kitchen offers a range of 'proper food' for pets and was inspired by their founder's border terrier - Lily. Lily's battle with itchy skin became the inspiration to provide proper food with no nasty additives for our cats and dogs.
As consumers, we are growing increasingly interested in health and wellbeing and we want the same for our pets, which has created a demand for more premium pet food brands. This demand for higher-quality pet food has meant an increase of 36% of annual household pet food spending over the past 10 years.
Product Page UX
Lily's Kitchen's product pages are bright, fun and eye-catching and use icons to highlight the key benefits of their food.
Instead of Lily's Kitchen showing different angles of the cat food product they have cleverly illustrated the contents of the food in easy to understand graphics.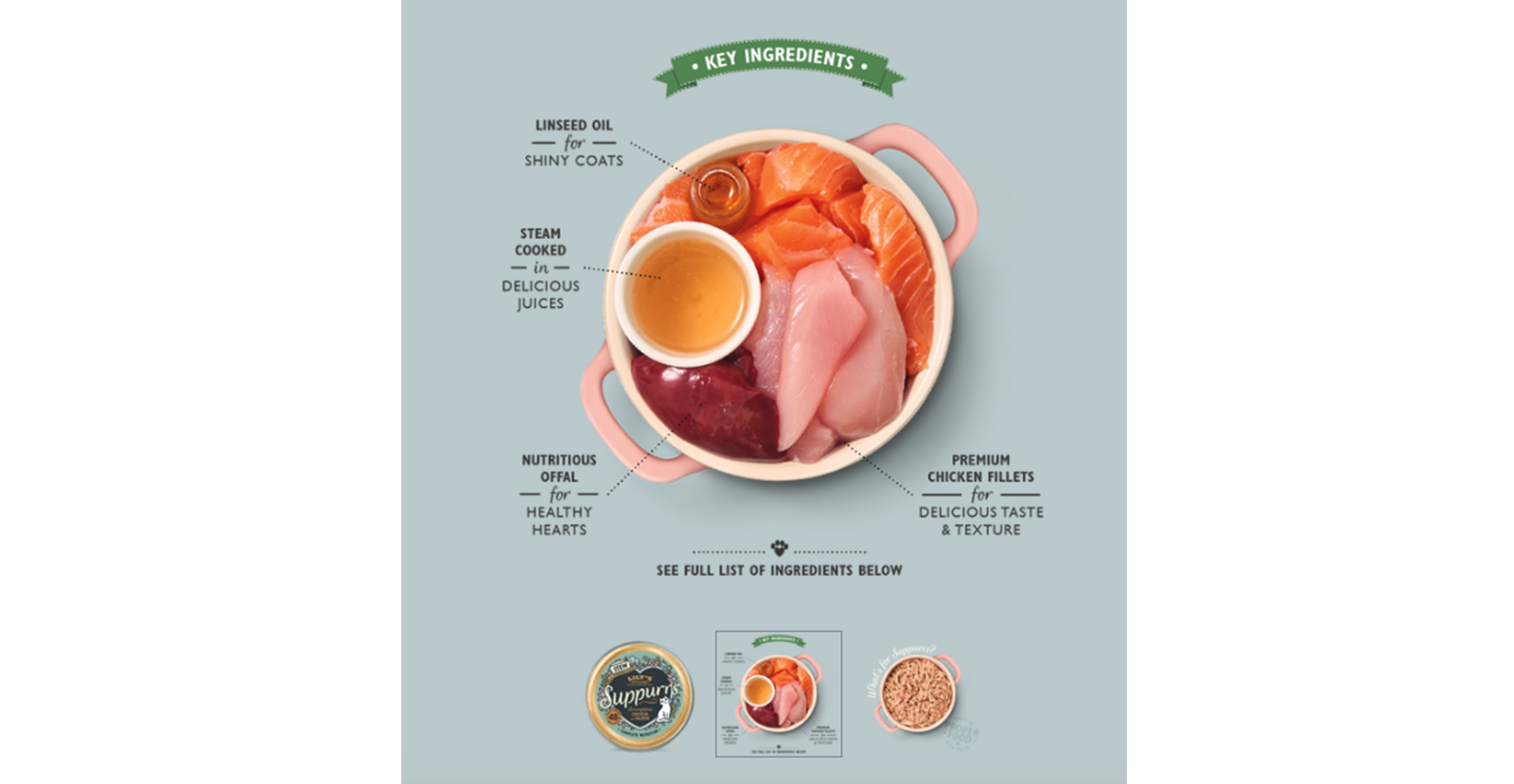 Customer reviews on the product pages are very useful to others who are considering buying the same product. Baymard found that 95% of users rely on reviews to evaluate the product and learn more about it. In some cases found the users even used the product information contained in the reviews instead of the product descriptions.
Lily's Kitchen has included real customer reviews at the bottom of each product page which can help customers reinforce their decision to purchase the food.
BarkBox
BarkBox is a dream come true for all dogs. BarkBox's aim is to create products and experiences that foster the health and happiness of dogs everywhere. They send over 500,000 monthly subscription boxes all over the world each month. That's over half a million happy dogs receiving a box full of toys, treats and goodies each month.
Subscription Plan
The subscription market is booming and is estimated to be worth £1bn by 2022. BarkBox has stated that its retention rate is as high as 95%, which means 95% of customers have bought more than once.
This percentage is so high because retention is built into their entire process. They ensure the treats and toys that are sent will suit the size of your dog for no extra cost, equalling happy customers who will keep coming back.
Their pricing page has also been cleverly designed to help with their retention rate. They offer 3 subscription plans, 12 months, 6 months and then a monthly subscription. They draw in the customer's attention by putting a 'most popular' banner across the 6 months subscription plan.
User-Generated Content
The great thing for BarkBox is that its customers will want to share photos online of their dogs enjoying a new box of goodies. This is free content being created and shared for them online which can help with new customers discovering BarkBox. Who doesn't enjoy looking at photos of cute dogs?
From BarkBox sharing a combination of user generated content and professional content, they can increase engagement levels across their social channels by 28%. Potential customers are also more likely to purchase from them if they can see other dogs enjoying their goodies online.
Pets at Home
Pets at home are your one stop shop for everything you need for your pet. From cat toys to birdcages and everything in between, you'll find exactly what you're looking for.
Personalised Loyalty Scheme
We love spending money on our pets, especially when we get rewarded. Back in 2012 Pets at Home launched their 'VIP' very important pets club loyalty scheme meaning customers are rewarded with special offers and receive news and tips for their pets.
The best part about the scheme is that every time a shopper swipes their card at checkout, money is donated to an animal charity of your choice, encouraging people to use their card.
We love loyalty schemes and they continue to heavily influence our brand advocacy, retention and spend. On average consumers belong to 14.3 loyalty programs however only actively engaging with 6.7 programs.
As a result of Pets at Home VIP personalised loyalty scheme, market research from Royal Mail found that average transaction values were 37% higher than for non-members with over £316,000 being donated to animal charities. ROI reached 401% and boosted those spending by 20%.
Chewy
Similar to Pets at Home, Chewy offers a full range of pet supplies online for your pets with over 1,600 brands to choose from.
The rise of giants such as Amazon and eBay has meant that brands are finding it increasingly harder to compete online with the low prices they offer. According to Packaged Facts, amazon attracts more than half of those who purchase pet products online passing the likes of chewy.com and petsmart.com.
To stack up against the competition, brands are seeking different ways to 'embrace eCommerce' and look for ways to nurture customers who are loyal to their brand.
Product Recommendations
One of the most important parts of the Chewy website is ensuring the customer has a positive experience. With thousands of different products available online, it's essential that the customer can easily find what they are looking for.
On the product pages, customers are presented with product recommendations in between rows of products. Chewy has cleverly renamed the 'favourites' section across different pages to catch customers' attention with names such as 'pet loved and customer approved' and 'reward your feline with these favourite treats'.
Barilliance found that product recommendation sections accounted for up to 31% of eCommerce site revenues highlighting the importance of this section for sales.
Repeat Ordering
Chewy offers an 'autoship' option at checkout. Customers simply pick the items they want, how often they want to receive them and their products will get shipped automatically to their door. By doing this the customer can receive an extra 5-10% off each order.
This is a simple but effective tool that helps Chewy keep their retention rate high. It also allows Chewy to differentiate itself from competitors and helps with forecasting future sales more accurately.
What next?
For pet care brands simply selling online is not enough in this highly competitive and growing industry. If you want to create a strong online presence for your pet care brand, we can help. Get in touch to discuss your digital marketing strategy so your brand can stay ahead of the game.