Blog
Social Media for B2B: Strategies for Success
Discover the key strategies for achieving B2B social media success.
When discussing social media marketing, B2B social media marketing might not be your initial focus.
However, in the rapidly evolving digital landscape, social media has become a necessary tool for businesses, including B2B companies, looking to connect with their target audience and promote their products or services. While B2C brands often steal the spotlight in the world of social media, B2B companies can also harness the power of social media to achieve remarkable results.
In this blog post, we'll discuss the key strategies and tactics for B2B social media success, including the importance of employee advocacy, crafting a unique brand voice, selecting the right platforms to connect with your relevant audience and establish trust with key decision makers.
What is B2B social media marketing?
Before diving into the strategies, it's important to understand what B2B marketing actually is and how it operates differently from its B2C counterpart. B2B social media marketing is all about targeting a niche audience of decision makers, with the focus of forming long-lasting relationships rather than generating quick sales. Therefore, B2B social media strategies should revolve around building trust and credibility among the right audience.
B2B social media strategies for any industry
Define your target audience
Firstly, it's important to define who your target audience is. Who are the decision makers within your industry? What challenges do they face and how can your products or services solve their issues? By understanding your audience, it's easier to tailor your content and messaging to resonate with them.
Craft a unique brand voice
For your business to establish meaningful relationships, you need to communicate clearly. By adopting a unique brand voice, your audience can become acquainted with and comprehend your brand, fostering a two-way conversation. According to Forbes, choosing which brand voice and tone to use is crucial. It is the chance for you as a business leader to express the brand's persona and slowly build connections.
An example of a well-recognised B2B brand voice is HubSpot. They have crafted a brand that expresses both expertise and assistance, which has contributed to their prominent position in the marketing industry.

What distinguishes HupSpot's brand voice is their confidence and deep understanding of marketing. They produce content with a clear educational intent, whether it's on their blog, within their email marketing initiatives or across other communication platforms.
As a business, HubSpot's goal is to make it easier for their audience to understand marketing concepts.
Leverage employee advocacy
In simple terms, employee advocacy refers to the endorsement of a business by its own workforce.Encouraging employees to share company updates, industry insights, and relevant content on their personal social media channels not only increases your reach but also adds a personal touch, making your brand more relatable and trustworthy.
Choose the right social media channels
Unlike B2C companies, it's not as important for B2B companies to be on every social media platform. Instead, for best practice, focus on the platforms that align with your audience and business objectives. Linkedin is often considered the go-to platform for B2B companies due to its professional nature and networking capabilities. However, depending on your industry, other social media platforms such as Instagram, Facebook, Twitter or even TikTok may be more effective in reaching your desired audience.

1. Linkedin
Linkedin was rated the number one platform for B2B lead generation with 40% of B2B marketers stating that it is the most effective platform for driving high-quality leads. Linkedin is ideal for businesses seeking to establish connections with influential decision-makers like C-suite executives and company directors.
Content offerings delivering valuable business insights and guidance to specific audiences can be highly effective on Linkedin. For example, if your target audience includes CEO's, your content should be insightful, informative and include detail on how your product or service could enhance their organisation.
Take Buffer, for instance, a social media management platform that aids businesses in content publishing, client engagement, and social media performance analysis. As you can observe below, they make use of LinkedIn to educate their audience about their product offerings.


Since Linkedin content tends to lean towards professionalism and serves an informative purpose, this won't align with every business. Therefore, consider using other platforms to better match your content style.
2. X (Formenly Twitter)
Despite the rebrand, a slew of questionable business decisions and a host of changes still to come - it is still business as usual at X.
X is another powerful social media platform, with its user base estimated to reach 457.63 million in 2027. It is useful for sharing real time updates, industry news and engaging in conversations with industry experts.
While you may be considering making the move to Threads it is important to note that many of your potential customers and collaborators may still be using X. X is ideal for businesses who want to connect with larger audiences in real time, participate in relevant hashtag conversations and offer practical insights.
Mailchimp provides a clear example of this, while using X to generate FOMO on the countdown to one of their virtual events.

3. Instagram
Instagram's user base consists of individuals who appreciate visually engaging content. It serves as a platform where you can exhibit your company's culture, offer glimpses behind the scenes, and narrate compelling visual stories about your business. According to statistics, in April 2023, it was reported that advertisers could reach 1.628 billion users on Instagram, ranking 4th place for the world's most 'active' social media channels.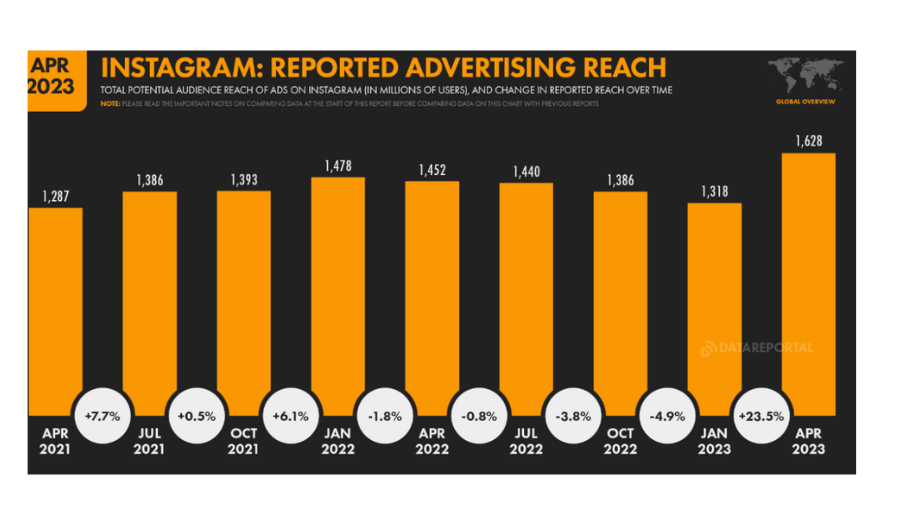 For businesses aiming to establish a strong visual identity through graphics, photos, and video - the type of content that thrives on Instagram - this platform is the ideal choice.
4. Facebook
Facebook currently has more than 2.9 billion monthly active users. Facebook is not primarily a B2B social media platform, it is often overlooked. However, it provides numerous features and targeting capabilities, including lead capture forms, custom audiences, lookalike audiences, and dynamic ads, which B2B marketers can utilise to connect with and captivate their intended audiences.
Facebook is an ideal platform for your business if you're looking to connect with clients on a more personal level. It is an excellent platform to share content that is informative and easy to understand.
An example of this can be observed in the case of Hootsuite, where they effectively utilise Facebook as a platform for sharing informative and educational posts. They employ Facebook as a channel to disseminate valuable content, exemplifying the strategic use of social media for sharing insights and knowledge.

5. TikTok
With a strategic approach, TikTok presents a valuable opportunity for B2B companies. It serves as an ideal platform for boosting brand awareness and extending your reach. This can be achieved by participating in TikTok challenges or collaborating with influencers to create and share videos showcasing your products or services.
When harnessed effectively, TikTok can be an outstanding avenue for B2B marketing. It empowers B2B brands to tap into their creative side, offering a glimpse of the fun and behind-the-scenes aspects of their operations, fostering relatability with their audience. In fact, it's worth noting that short-form video content, as identified by Sprout Social stands out as the most engaging content.
For example Slack, a versatile cross-platform instant messaging service, exemplifies this concept by offering engaging, humorous and relatable content across their TikTok.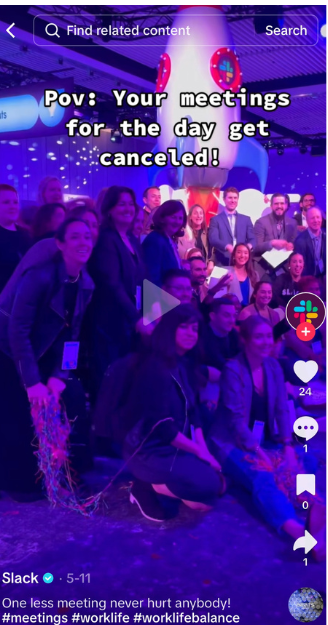 Create varied, valuable and original content
Defining the content you wish to share is crucial, aligning it with your business guidelines from the outset. B2B content marketers should aim for variety in their content portfolio to maintain audience engagement. This includes creating blog posts, infographics, and concise explainer videos to highlight your offerings. Although researching competitors' content can spark inspiration, it's essential to generate unique content that provides value, expands knowledge, and addresses main points. Share industry best practices, valuable insights, and practical solutions related to your product or service.
Develop a consistent posting schedule
Consistency is key in maintaining a strong social media presence. Create a content calendar that outlines when, where and what type of content you are going to post. When you are consistent, whether that is posting once a week or everyday, it enhances the overall consumer experience as your posts are anticipated.
Tools such as SEMrush Social Poster and Canva Content Planner will allow you to create, plan and schedule content across all platforms. Social Media is a fast-paced environment with new trends constantly developing and therefore when there is lack of consistency content can become outdated. Maintain a regular posting routine to strengthen the consistency of your brand communication.
Engage in conversations
Social media was created for the purpose of helping people make connections with other people. As a B2B, you won't be able to connect with your audience if all you're doing is pushing content at them. Publishing too much content about your product or service can be off-putting in social media feeds.
To remain relevant, it's essential to participate in discussions that resonate with your audience's preferences. Consider this LinkedIn post by Buffer as an illustration:

Buffer has devised a poll tailored to pique the interest of their specific audience. Active engagement in discussions with your audience not only fosters a sense of being heard and included within your business but also facilitates connections with individuals who share similar interests.
Measure and adapt
It's imperative to assess the performance of your B2B social media strategy and be prepared to make adjustments for optimal outcomes. Employ analytical tools like SEMrush, Google Analytics, or, as previously mentioned HubSpot, in addition to the analytics tools provided by social media platforms. These tools will provide valuable insights into metrics such as engagement, reach, click-through rates, and conversion rates. Regularly review this data and make strategic adaptations to align with your business objectives.
Key Takeaways
In a world of B2B social media marketing, success hinges on your ability to engage decision makers and build trust within your industry. You can enhance your brand's visibility and authority by:

defining your target audience

crafting a unique brand voice

leveraging employee advocacy

choosing the right platforms

consistently creating valuable content that resonates with your audience,
It's important to remember that B2B social media marketing is a long-term endeavour, building strong relationships and brand awareness takes time. Incorporating the above strategies and tips can aid B2B companies in achieving great success and establishing themselves as leaders in their industry.
Need guidance implementing your own B2B Social Media Strategy? Get in touch for our expertise on elevating your social media influence. No matter your objective, we're here to help.